Bailey Blanchard

Agent

in Lafayette, LA
Associate Information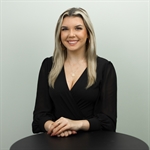 Hello, I'm Bailey Blanchard, your dedicated real estate professional with an unwavering love for turning dreams into keys. Over the last few years, I've immersed myself in the ever-thrilling world of real estate, and let me tell you, I'm head over heels in love with my job!
From the first moment I stepped into this industry, I knew I had found my calling. There's an indescribable joy in helping my clients navigate the exciting journey of buying and selling homes. Every property holds a unique story, and I'm here to ensure that each chapter is filled with happiness, satisfaction, and success.
My approach is simple yet effective: I put my heart and soul into every interaction. Whether it's a first-time homebuyer taking those monumental steps towards their future or a seasoned investor expanding their portfolio, I'm here to guide, advise, and celebrate. Your goals become my goals, and together, we embark on a journey that's not just about transactions but about building relationships that last.
But it's not all business with me – I believe in creating memorable experiences along the way. Laughter, enthusiasm, and positivity are key ingredients in all my interactions. When we work together, you're not just gaining a real estate professional; you're gaining a friend who's genuinely invested in your happiness.
So, whether you're a first-time buyer with a heart full of dreams or a seller looking to make the next exciting move, let's connect! Together, we'll make your real estate journey a joyful ride, filled with accomplishments, laughter, and moments to treasure.